Putt 18
THE ULTIMATE HOME PUTTING GAME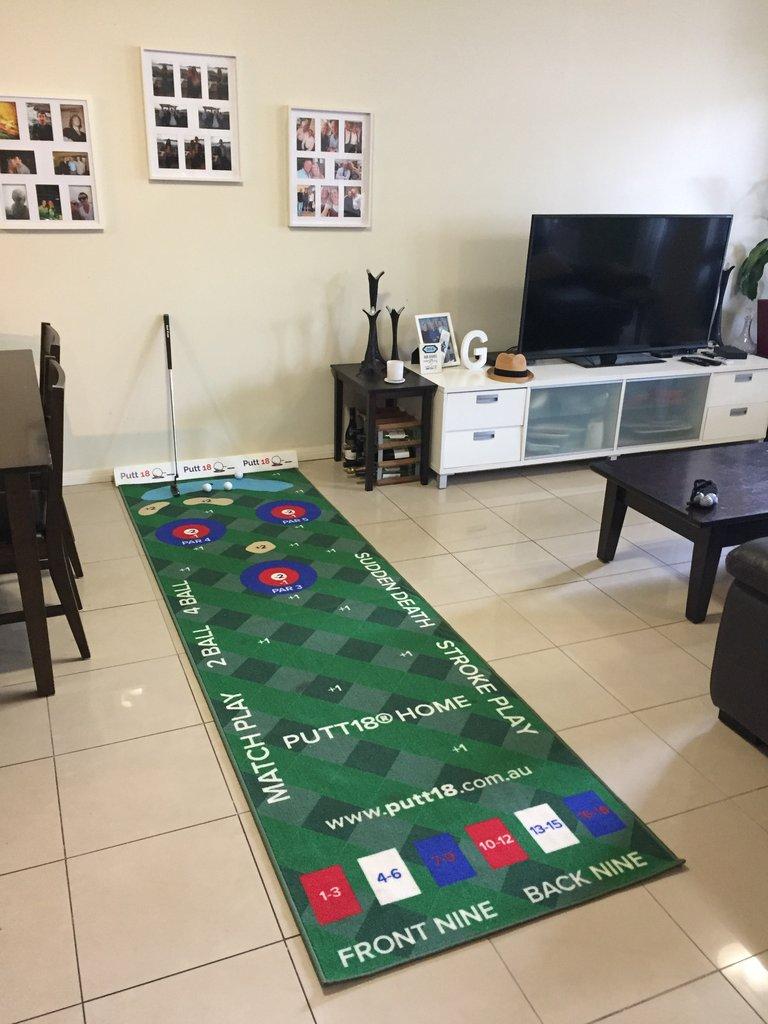 Putt18 is a perfect indoor game that friends and family can play. No matter your skill level you can Putt18.
Putt18 is an interactive Putting Game that can be played at just about anywhere you can think off. Putt18 is the perfect way to socially engage and have fun at home. 

Do you like to laugh and enjoy laughing with others?
Are you, your friends or your family competitive and like playing games?
Do you like scenarios where the funniest moments are happening around you?
THEN THIS GAME IS FOR YOU!
Putt18 scores like a round of golf and is a Par 72.
Play 9 or 18 holes on your own or in teams. Navigate you way around the course and avoid the bunkers and water hazards.
We've even added some Wild Cards to make it even more fun.
Whether you're a regular golfer or a complete novice, this putting game brings new life to indoor games.
No other putting experience gives you those pressure putts you need to hole. The stomach turns and you are 2 down with 3 to play. What will you do under pressure?
Use the Wild Cards to Challenge other players and make them replay their putt. Putt18 is fun to watch, easy to play and will keep you wanting more after every round. 
⭐️⭐️⭐️⭐️⭐️
"A great game for the whole family. So much fun. love the friendly competition the game generates. It keeps you coming back for more."
Allan C.
⭐️⭐️⭐️⭐️⭐️
"Putt18 have created a superb product with the Putt18 Putting Mat Game. It's a very high quality product and brilliant fun to play. It's got the right level of frustration factor as you want to return to play it again and again to get a better score. It's brilliant to be a part of the international events the Putt18 team organises."

Richard G.
⭐️⭐️⭐️⭐️⭐️
"I've had my mat for the days now and have spent at least an hour on it every day. Living in Britain, there is always a chance of rain so great to do something competitive indoors. This is a great test and ideal cross between mini golf and putting, with the carpet itself much like putting on grass. I can't recommend this highly enough."
Steve L.
⭐️⭐️⭐️⭐️⭐️
"Just wanted to drop a line and say that I'm thrilled with the putting mat. It was a wonderful surprise to see the putter and the golf balls included as well, thank you so much. The world is crazy right now, and the United States is especially crazy right now. I truly appreciate having found a generous person like you who is providing a unique, high-quality product that is invaluable to me at a time like this....Have a great day, and be looking out for a new U.S. record 🤓"

Pat
"Extensive research and development has gone into making the Putt18 golf putting mat a robust mat with a non-slip backing that lays flat. The material has passed stringent Stimpmeter tests in simulating a golf ball roll and speed of a putting green.
The Putt18 putting mat game is a lot of fun, for golfers and non-golfers of all ages. You can play 18 holes by yourself in about three minutes, or have a longer game with the rest of your family members."
30 DAY FULL MONEY BACK GUARANTEE
ORDER TODAY
TO GET FREE SHIPPING
$30 OFF
LIMITED TIME OFFER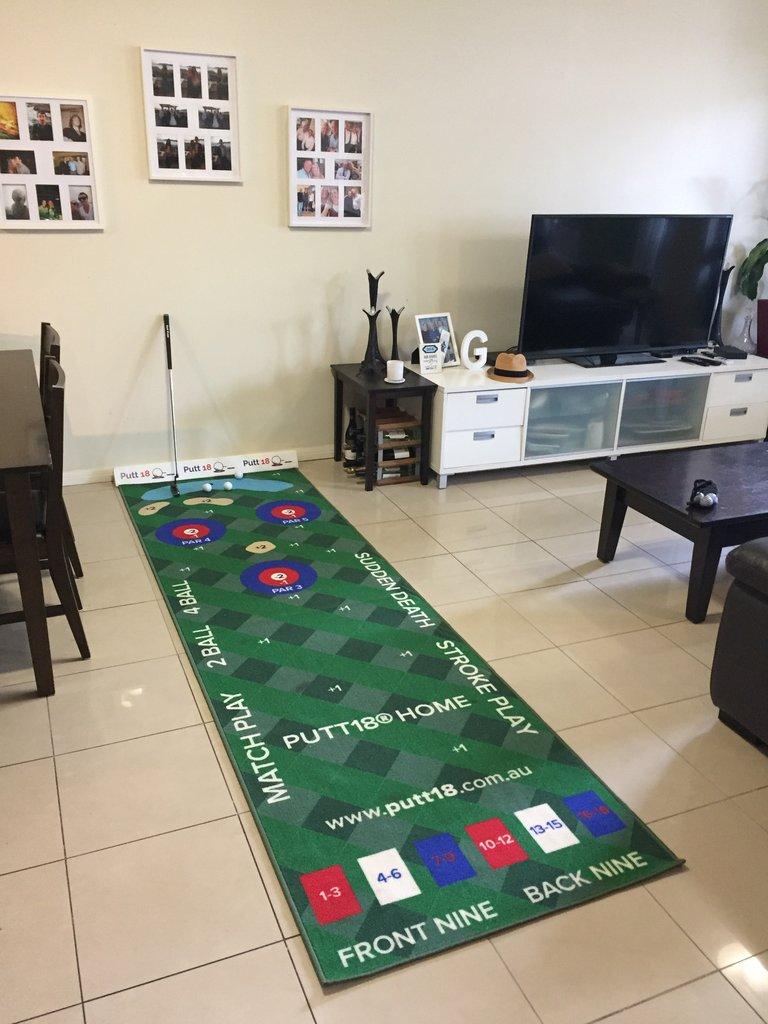 PUTT18 Home
⭐️⭐️⭐️⭐️⭐️ (5.0)    BEST SELLER
What's Included:
1 x Putt18 Putting Mat (9ft x 3ft or 3m x 1m) 
1 x Putt18 Game Rules
1 x Putt18 Score Cards
12 x Putt18 Wild Cards (Original Set)
FREE SCORING APP
Includes Bonus 3 x Putt18 Golf Balls valued at $9.95
PRICE: $159.00 $189.00
FREE DELIVERY IN THE U.S.A